Castle on a Cloud
by
alyson
Travelogue: Part 4
We left Portrush early the next morning after our traditional Irish breakfast from our B&B. It was pretty much the same as English breakfast but they added black pudding. Neither one of us could bring ourselves to try it, I guess when "pork blood" is one of the ingredients my courage goes out the window. We stopped at this castle that was pretty much built on the cliff. It wasn't even listed in our guide book and we thought it was amazing! Just goes to show how many incredible things there are to see and Lonely Planet couldn't list every single one.
Dun Luce Castle, built in the 13th century.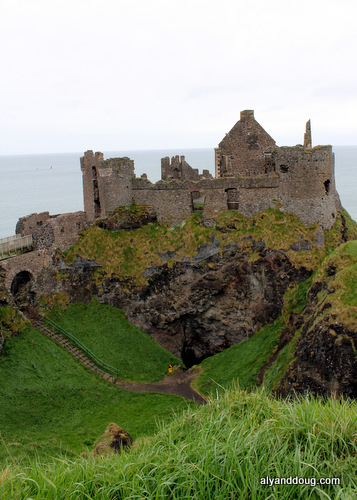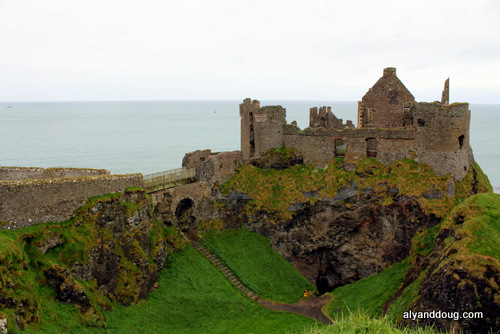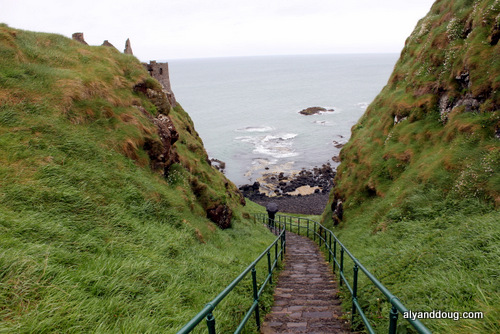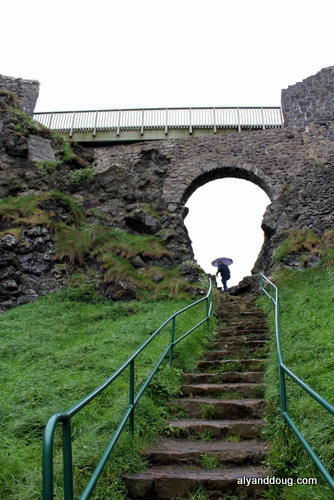 Doug pointed out that there isn't any dirt in Ireland, it's all covered in deep green grass. Every square inch is luscious and green. I need to stop using the word "green" but I don't know how when I'm talking about Ireland.
Next on the agenda was Carrick a Rede rope bridge. Bridges to the Carrick a Rede island have been in place in some form or another for 350 years, mainly used by salmon fisherman. The rope bridge spans 20 metres and is 30 metres above the water. It was made clear that it was not for the faint of heart so I felt exhilarated leading myself up to the bridge. We were both a little disappointed in the actual crossing of the bridge as it wasn't as scary as expected; a part of me wanted to be scared enough that I'd have to summon up courage from my depths to cross it. We were still rewarded with incredible views from the island and a sense of accomplishment.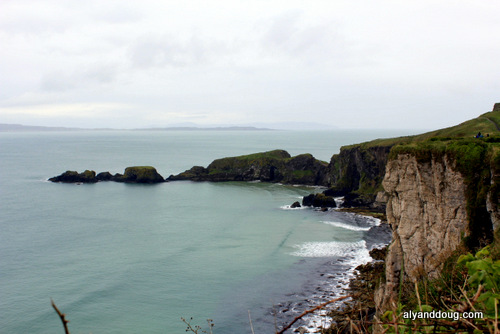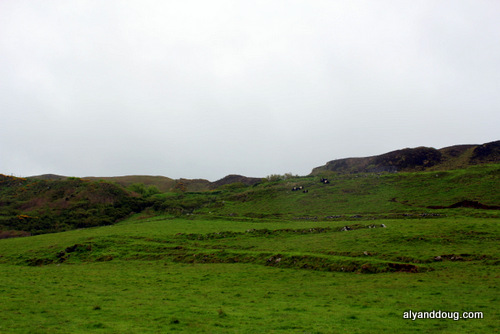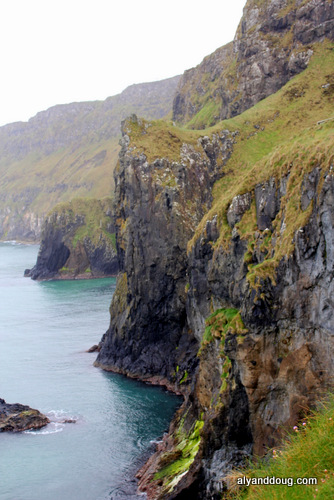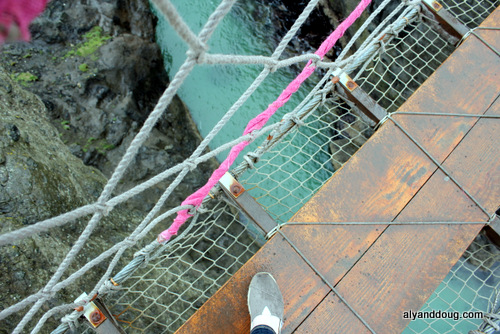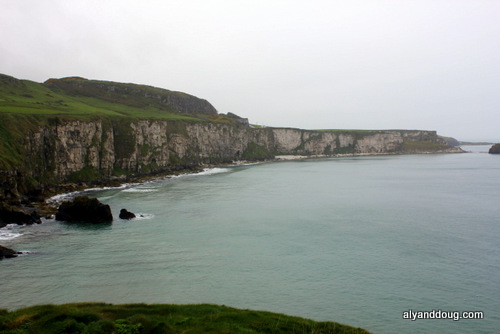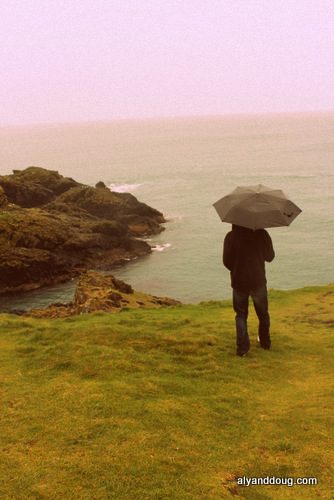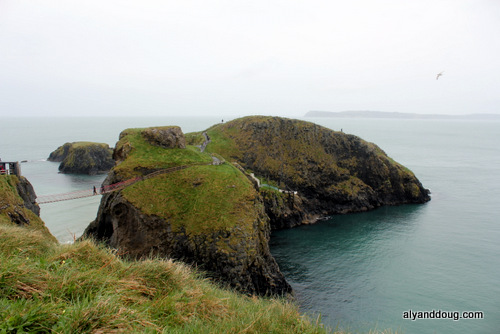 The Giro d'Italia bike race was scheduled to start in Ireland. We drove along a lot of the route and it would be an incredible race to be a part of, the scenery is unreal. We passed bicycles painted pink all over the place and some shops even painted their building pink in support of the race. It made for a really exciting spirit and feeling of camaraderie, would've been fun to stay and watch the race. If you notice in the pictures above of the bridge- the rope is pink to celebrate the race.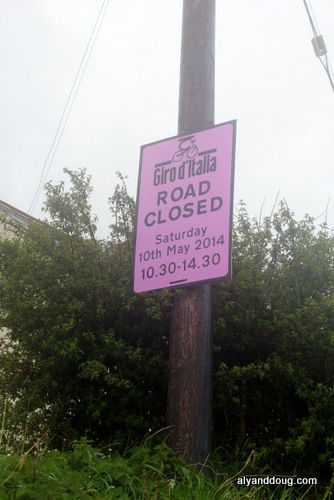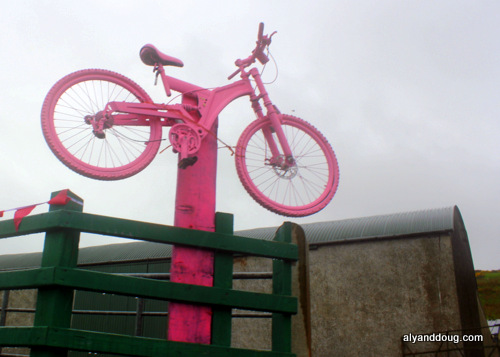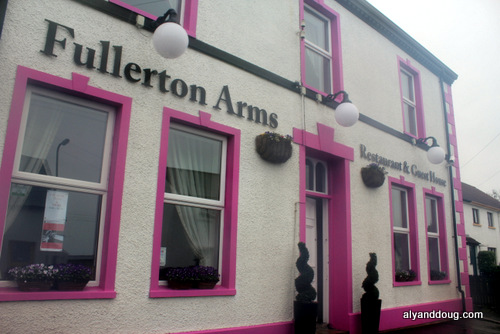 This was our big driving day to make it all the way down to Galway. In keeping with our road trip tradition, we brought an audio book to listen to. I'm telling you right now, it makes any road trip blissful to listen to book while you drive. Sometimes it gets to the point where we don't even want to pause the book and get out of the car. Lucky we had our book because we got "diverted" an hour or so out of our way because of a car accident on one of the main motorways. We ended up driving on tiny back roads pretty much in the middle of no where, which was totally ok because we were in Ireland. Besides the green fields there are a lot, and I mean a lot, of sheep and cows. Every time we passed them I would gasp and make some comment about "the sheep!" or I'd grab Doug's arm and point. That wouldn't be that big of a deal but we were literally passing them every 2-3 minutes. It didn't make a difference, each time I saw a field of sheep I was more excited than the last. Doug was very patient with me and just nodded or smiled at me, he had to grow tired of it- not of the sheep, but of my commentary about the sheep. I think I've always like sheep but something about them plastered on an emerald canvas was so extraordinary I could not get enough. I strongly considered selling everything and buying a cottage on a sheep farm over there. I'm still not opposed to the idea and it sounds better and better the more pictures I look at.
Another note about driving- we drove on the left side of the road there just like in England. It wasn't bad because we were out in the country so much, it didn't take much concentration as it might if we were in a busy city and making lots of turns, dealing with roundabouts, etc. Actually, we still dealt with a lot of roundabouts. Well whenever we would walk to the car I would walk to the right side of the car to get in, stop, look in the window, realize that was the driver's side, put my head down and walk past Doug to the passenger side of the car. He would stand back and watch me do this every single time. I don't think I ever got it right and it was embarrassing every time so I'd try to scurry past him and he'd just be standing back smirking/laughing. Old habits die hard.
We gave ourselves a driving tour through the city of Londonderry. This is actually the street name we live off so we were excited to drive through it for that reason amongst others. Our whole neighborhood is named after cities in Ireland so it was really fun for us to scope out each place and put it on our "mental maps". Londonderry is the only city left in Ireland that has a fully intact wall dating back to the 17th century.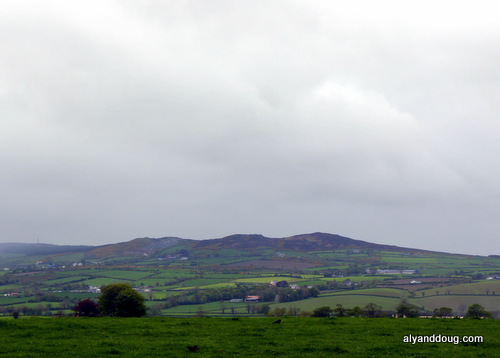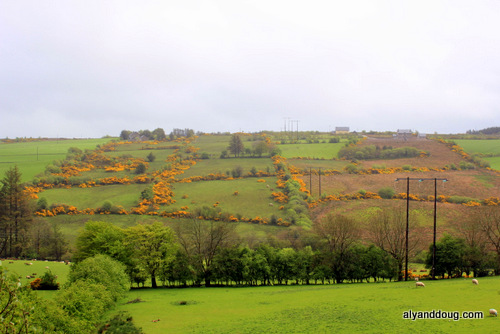 I loved being in West Ireland because of the extensive dry stone walls. They were built as field boundaries while they cleared the ground and were made with no mortar. I read there is an estimated 250,000 miles of dry stone walls in Ireland. They're both practical and aesthetically pleasing, especially if the field they encase houses sheep.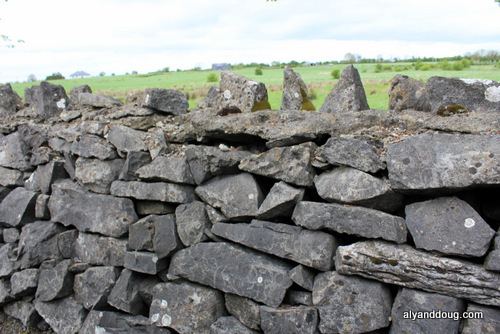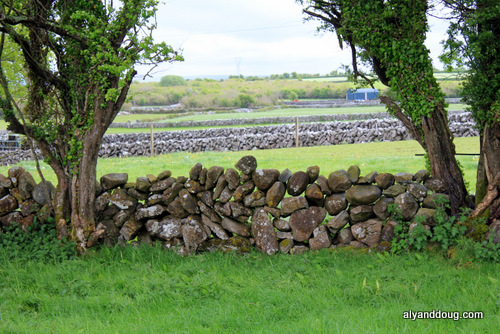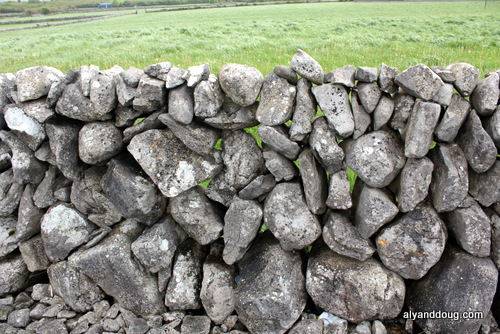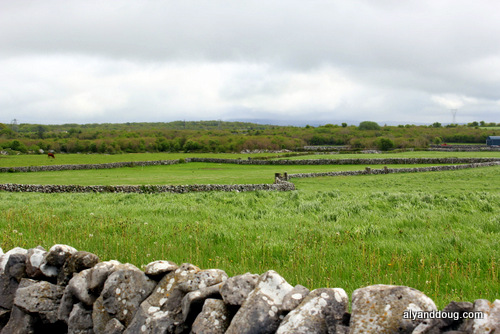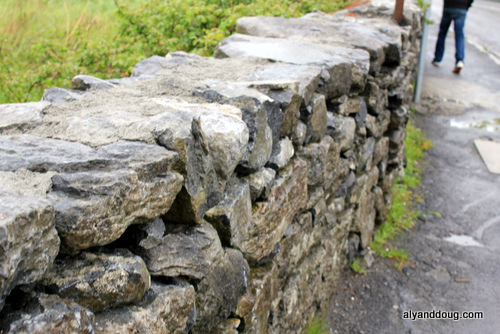 We made it to Galway for the night and had the best Italian dinner. Galway was a very cool place, but unfortunately you have to make sacrifices when you are in a time crunch and we chose to carry onward the next morning instead of spending time in the area. I guess it gives us more reasons to go back, right?
The last day of our road trip was our castle tour day, to be continued.