I See London
by
alyson
I've taken a bit of a hiatus from blogging. Once we started missing days from taking our daily picture I sort of lost the blogging spirit.
Doug had a big birthday in March. The big three-oh. Dirty thirty. In lieu of a party, or any sort of celebration, we decided to plan a trip to commemorate the rise into true adulthood.  With a little deliberation we landed on London and Dublin. Mainly because my cousin is living in Dublin right now while her husband is getting his doctorate, if we were ever going to see Ireland in our lives now was the time and England was a nice bonus.
Trips take so much planning and preparation, especially when you both have full time jobs, pets and a house to make arrangements for but it's all worth it. We were gone for 12 days and returned a week ago. I suffered from some serious jet lag and it took me awhile to get back into the swing of things. This is the first chance I've had to even look through our trip photos and I have a big task ahead to get them organized and posted.
Travelogue: Part One
After countless hours of driving, flying, layovers and customs lines we finally made it onto UK soil. We were excited to get settled; once I get off a plane all I want to do is get to my "home base" (hotel, home, whatever it is). We hopped on the Underground (Metro) and had a straight shot on the Picadilly line to our destination….or at least we would have if there had not been a strike and the Underground was running normally. What should have been a nice 45 minute ride turned into a 4 hour jaunt from one form of public transit to another. But we did end of making it and got to see a lot of the city right off the bat, it just wasn't as easy as hoped after 22 hours of travel.
We had a nice Indian food dinner, walked to the apartment we were staying in and got in around 9PM. Doug was asleep before I even found my toothbrush in our suitcase. We crashed for a solid 10 hours and woke up ready to see the sights.
When we visit big cities we typically like to take public transit to our first destination and then walk the rest of the day until we make our way back "home". That's what we did each day in London and clocked around 10 miles a day. It's our favorite way to see the city. Our first day we took a bus to London Bridge and started walking from there. We loved the buses in London. Usually we stray from buses, because they're pretty dodgy, at least in my experience. Not so in London, they were clean and when you sit up top you have an amazing view- it feels like you get a free tour with your bus ticket. It was such a nice way to travel. Not to mention the buses are adorable.
We grabbed breakfast at a little diner and ordered the traditional English breakfast to share. It was kind of gross. We later learned that the traditional breakfast can be amazing, you just shouldn't order it from a dumpy diner. Let's talk about the beans for a second… Who thought it was a good idea to slap beans on everything? I actually didn't hate them, but I still think it's silly.
Here we go with our walking tour that took the next two and a half days. Hold on for a very large amount of photographs.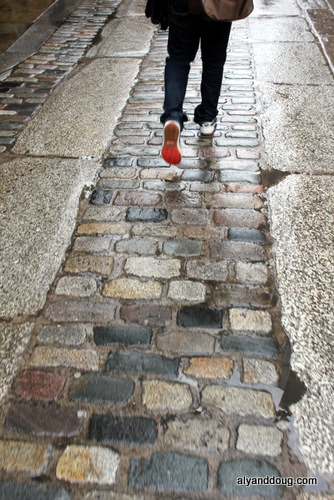 The Legend of Mary Overie
"Legend suggests that before the constructions of London Bridge in the tenth century a ferry existed here. Ferrying passengers across the River Thames was a lucrative trade. John Overs who, with his watermen and apprentices, kept the 'traverse ferrie over the Thames' made such a good living that he was able to acquire a considerable estate on the south bank of the river.
John Overs, a notorious miser, devised a plan to save money. He would feign death believing that his family and servants would fast out of respect and thereby save a day's provisions. However, when he carried out the plan, the servants were so overjoyed at his death that they began to feast and make merry. In a rage the old man leapt out of bed to the horror of his servants, one of whom picked up a broken oar and 'thinking to kill the Devil at the first blow, actually struck out his brains.'
The ferryman's distressed daughter Mary sent for her lover who in haste to claim the inheritance fell from his horse and broke his neck. Mary was so overcome by these misfortunes that she devoted her inheritance to founding a convent into which she retreated.
This became the Priory of Saint Mary Overie. Mary having been made a saint on account of her charity.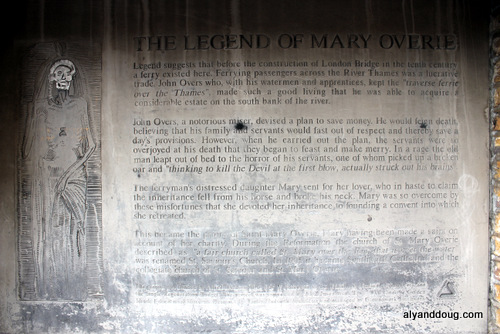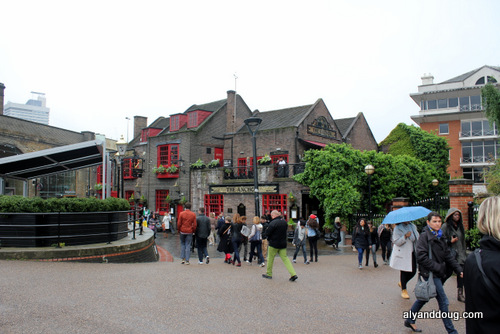 I took this photo just so I could remember to look up the word "busking".
verb  1.Chiefly British . to entertain by dancing, singing, or reciting on the street or in a public place.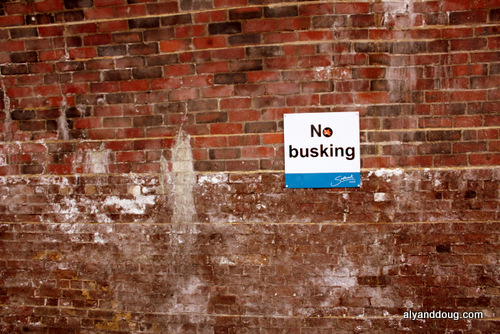 "Men's evil manners live in brass, their virtues we write in water." Henry VIII, Act 4, Scene 2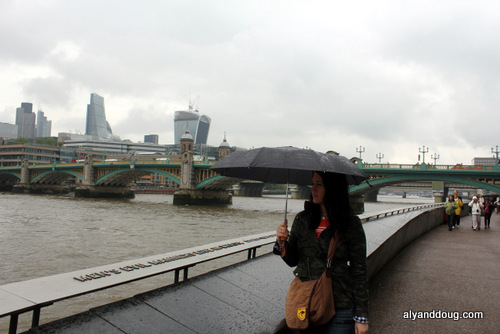 I was really excited to see Millennium Bridge because of the scene in Harry Potter 6. Actually I was really excited to see everything in London because of every scene in Harry Potter. If I'm being honest, most of my knowledge of London/England comes from Harry Potter. Let me try again, most of my knowledge of every thing comes from Harry Potter. I'm not even ashamed.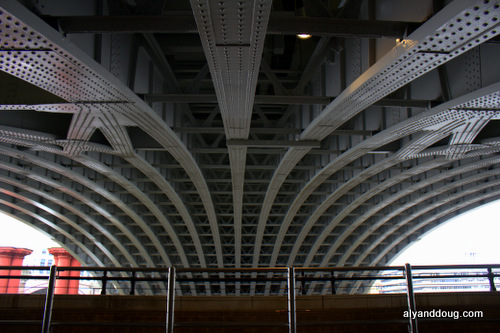 We regretfully decided against riding the London Eye. For better or worse we saved $100.
I have to throw this picture in here for old times' sake and for Aubrey's sake. I went to Europe with Aubrey in 2006 when we were in college doing a travel study for Humanities. We got hot dogs near Big Ben then hoofed it across Tower Bridge and my friend Shauna puked up her hot dog all over the bridge and instead of being helpful at all we just thought it was hilarious and brought it up the rest of the trip.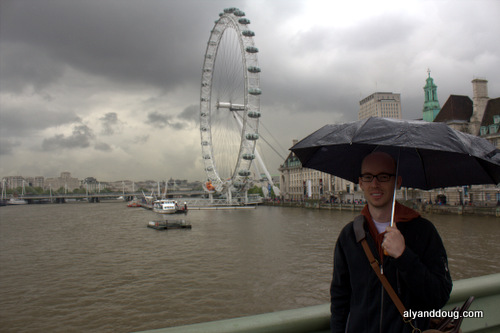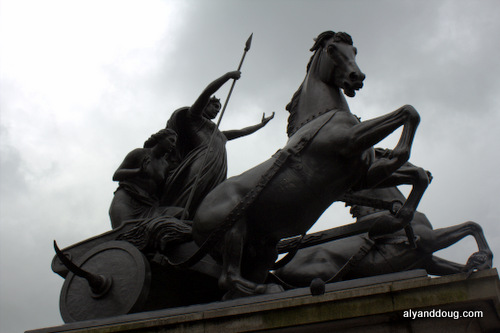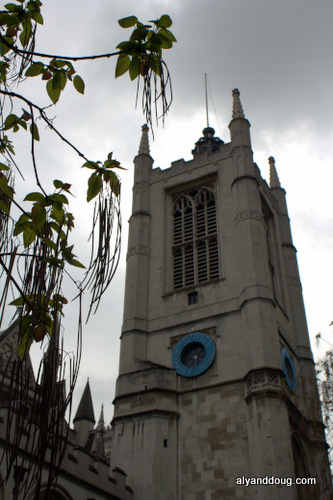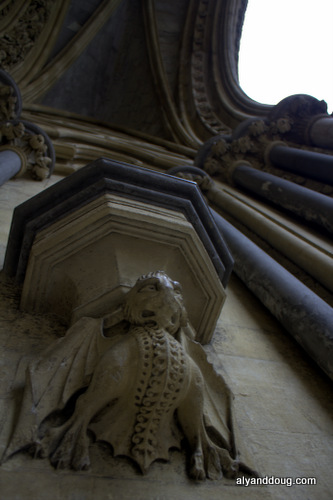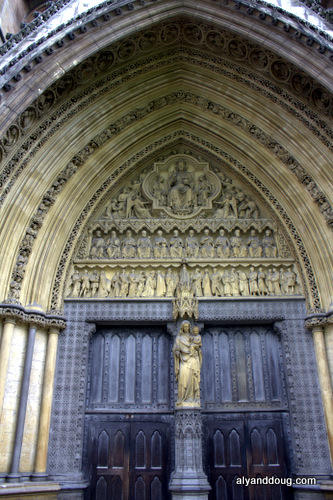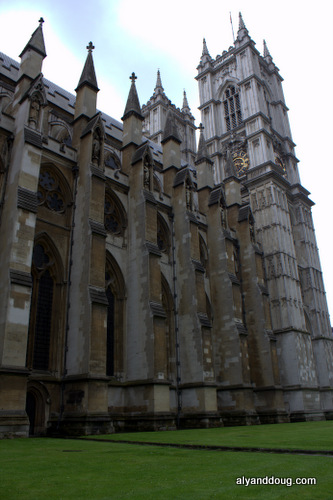 We saw these darling little school boys in their cute little uniforms and cloaks and immediately jumped to the conclusion that we were at Hogwarts. Turns out that these were actually choir students from the boys choir that sings in Westminster Abbey. Can you even imagine? Everywhere we turned we saw something more amazing than before and it's hard to believe that people just live their normal lives here, just like these boys at school. I'm sure I'm guilty of taking the beauty of where I live for granted but London was unreal to us and at times it seemed we were the only ones that even noticed a gorgeous building that was centuries old in the middle of the city.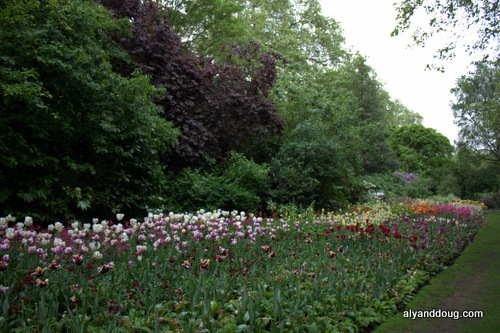 Buckingham Palace
As we're walking along we caught a glimpse of this tower and when we rounded the corner we realized we were at King's Cross Station. I was completely smitten with this building. I think it was my favorite in all of London; it's enormous and magical.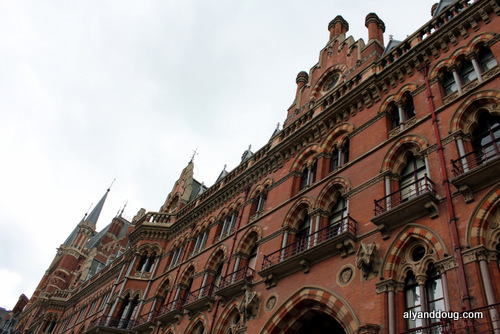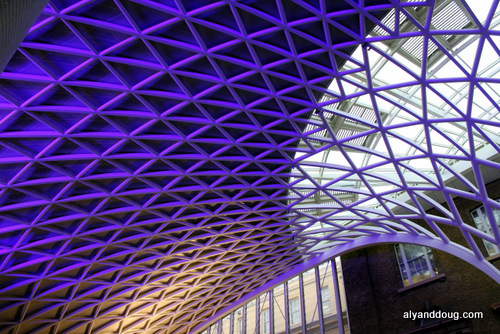 We were walking around the building admiring it and at the same time trying to find platform 9 3/4. We were having trouble locating it so I ended up having to ask one of the guards and I was quite embarrassed to do so. Doug filmed me asking the man without me knowing, video to come later. When we found it there was a crazy line of people, probably a two hour line, to get their pictures taken at the platform. Regrettably we had to turn around with no picture. The next morning we had to catch a train from the station and decided to take a small detour to pass the platform again and no one was there! So we got the photos and my excitement is almost oozing out.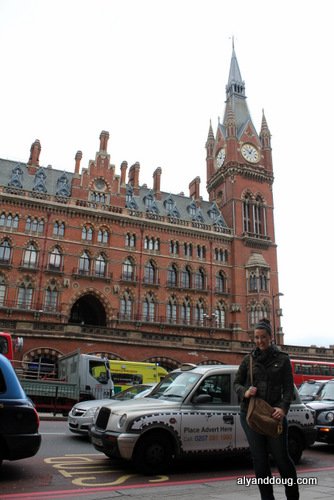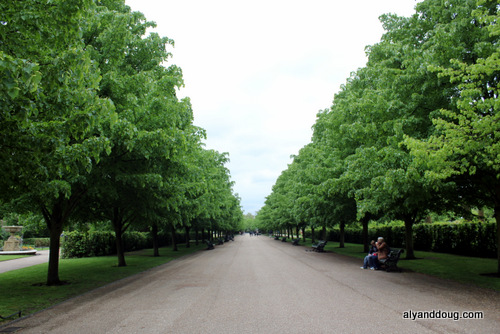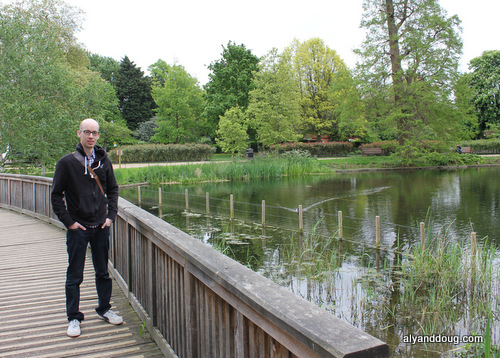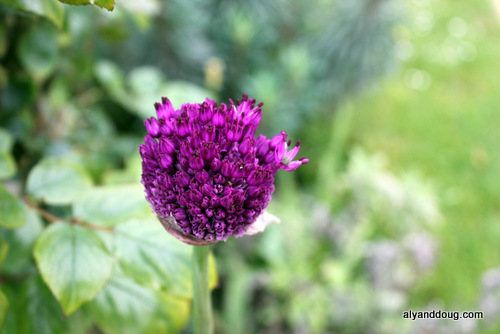 We got to go to the National Gallery again. This is one of my favorite museums, one that I hope to visit again. I think my favorite, if I had to choose, would be the Van Gogh pieces they had. Seeing his work in person is incredible, prints certainly don't do them justice.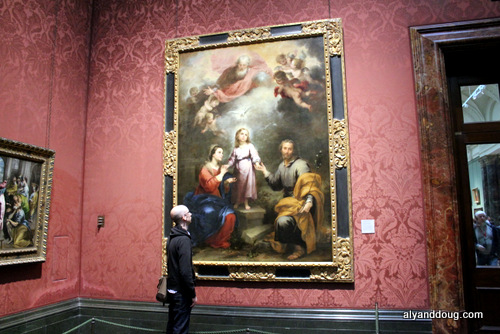 National Gallery
Funny story about the phone booth. Of course I wanted my picture in one because they're so iconic and, forgive me for overusing this word, cute. I hopped in and immediately thought I was going to pass out. The smell hit me like a ton of bricks, the most pungent rancid urine smell I've ever encountered. It was like it had been cooking in there for months just waiting to knock someone out. I held my cool while Doug took the picture for me but it kind of ruined the phone booths for me. It was like going in a bakery and seeing a bunch of delicious looking chocolate chip cookies only to take a bite of one and realize it was full of raisins, thus making it inedible. The phone booths are full of raisins.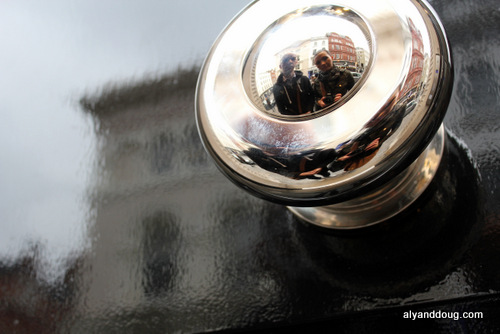 On our first night we wanted to go eat at a restaurant called Rules, per a recommendation. Rules is the oldest restaurant in London. We knew it was on the pricey side but were prepared. We got there early, around 5PM, and were let in by a doorman in a tux. We were greeted by the host whom I can only describe as Stanley Tucci playing one of his snobby/arrogant yet lovable characters. Tucci looked us up and down and let us know that they were booked solid and we would need a reservation should we want to return. Doug assured him we would. We grabbed some Thai food  instead. We love going to shows and had a lot of choices in London and decided on Agatha Christie's The Mousetrap, a play. It's been running for 62 years! We thought it was a very "British" choice and ended up loving it.
First thing the next morning Doug called and made our reservations for Rules. We arrived right on time and when we got up to Stanley announced we had a reservation with confidence. He looked up the reservation, looked at us and put on a fake smile. Stanley knew the place was too nice for us, we knew the place was too nice for us, but by golly we wanted our Yorkshire pudding so we pretended we belonged. (That story might be a bit of a hyperbole).We ordered as instructed by our friend: Rib of beef with roast potatoes, cauliflower cheese, Yorkshire pudding and lemon meringue pie for dessert. It was very good and such a fun dining experience. The restaurant has been running since 1798 and has only had three owners. They specialize in traditional English food and game that, from what I understand, they hunt themselves.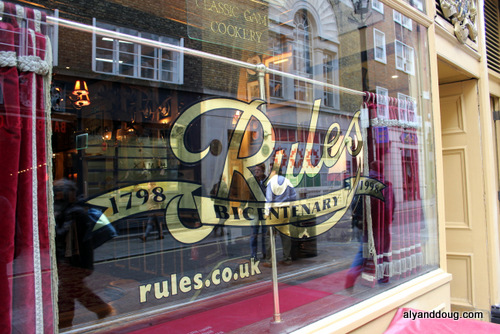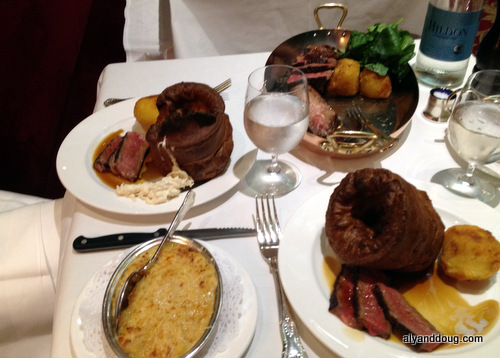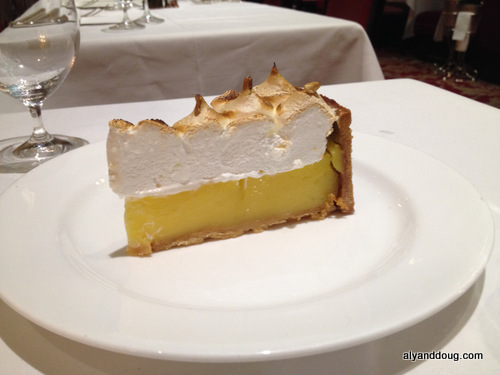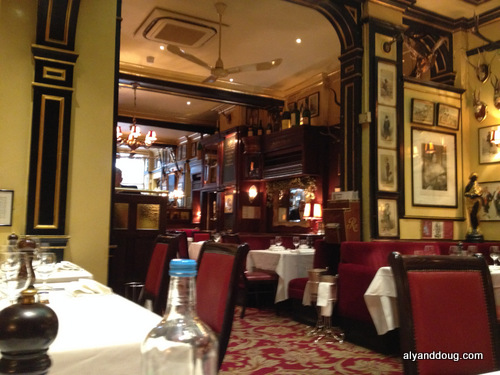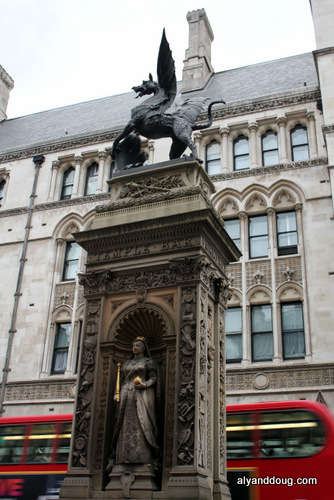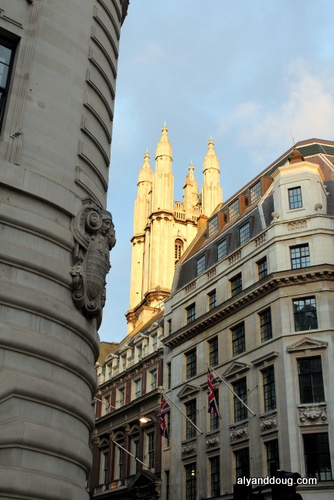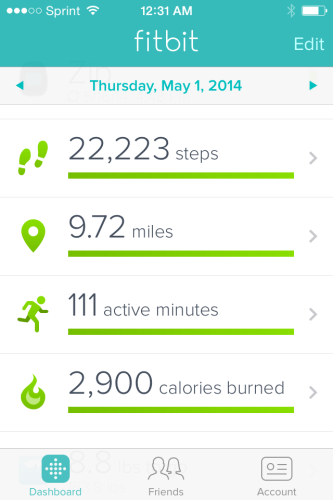 We absolutely loved every minute we spent in London and could have used another month, at least, to see what we wanted to. 
Travelogue to be continued.