God Save the Queen
by
alyson
Travelogue: Part Two
From King's Cross Station in London we headed to the airport where we rented a car. It was a little too easy, in our opinion, to be handed keys to a vehicle in a foreign country with no instruction, where they drive on the wrong side of the road. It instilled a little confidence at least. We were headed to Windsor Castle so we plugged that into the GPS and it said it was only two miles away, that seemed a little off but we took it as a win and set out. We wound around and around this little city until we realized GPS was taking us to a pub called "Windsor Castle". Not helpful. Isn't Windsor Castle trademarked or something? Seems like an oversight. We found the real castle in the GPS and off we went, this time through the countryside.
I tried so hard to get a decent picture of the "rape fields". We would refer to them as "canola fields" but the English prefer "rape fields". I informed our friend that that would have an entirely different meaning back home. Despite the horrifying name they were absolutely beautiful and the glorious yellow was exactly want you want to see dispersed through the deep green fields and trees that is the English countryside. It's not ideal taking pictures from the car window so most of it is stuck in our memories.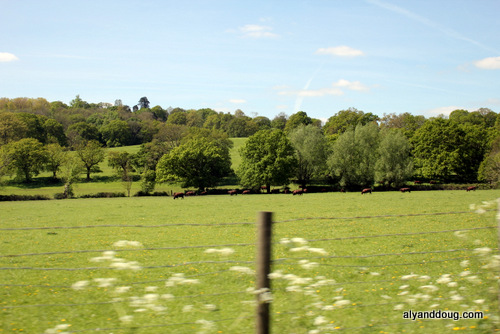 Despite the fact we were driving on the wrong side of the road and had to navigate through countless (pointless) roundabouts, we made it to Windsor and immediately fell in love. There's this giant castle in the middle of the quaint little village and then I looked up and saw an airplane flying overhead and for a moment was confused what century it was.
The castle tour was much better than I thought it would be. For some reason I did not know that the castle is still in use this very day by the queen herself. It's the oldest and largest occupied castle in the world. The queen spends many weekends there, hosts state banquets and entertains there. We couldn't take pictures inside but the tour was really cool and it's pretty much just how you would imagine a castle to be.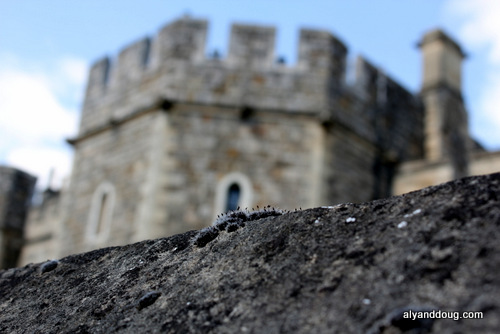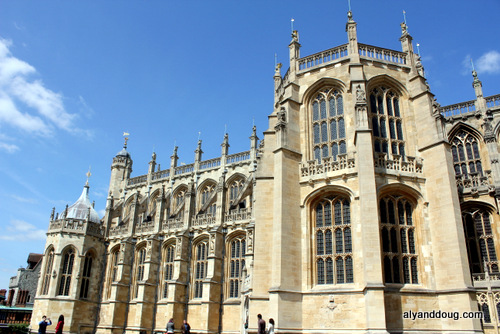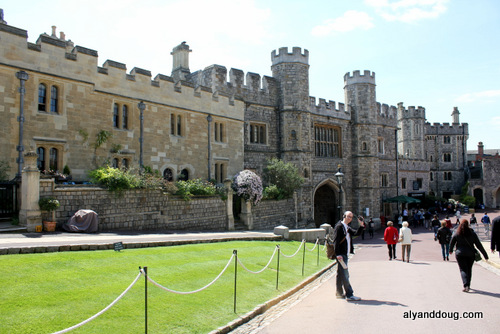 I know the guard garb is tradition…but come on, really? I think there comes a point when breaking tradition is the better option. Do they know they look absolutely ridiculous? And what if there was an actual threat? Are we supposed to trust these dudes to protect us through that furball covering their eyes? I'm sure I just offended more than one British person but I need some answers.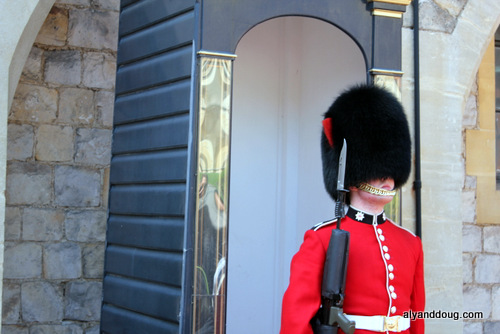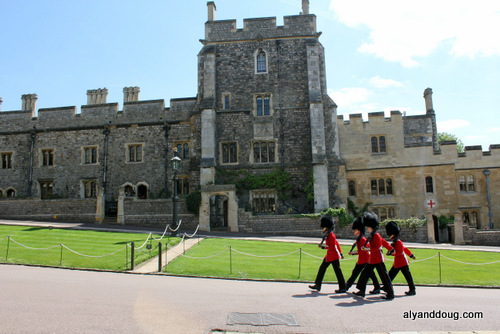 I loved the unicorns every where and the fact they chose a unicorn for the royal coat of arms. Brilliant choice. That might sound like I'm being sarcastic but I'm not, I really loved the unicorns.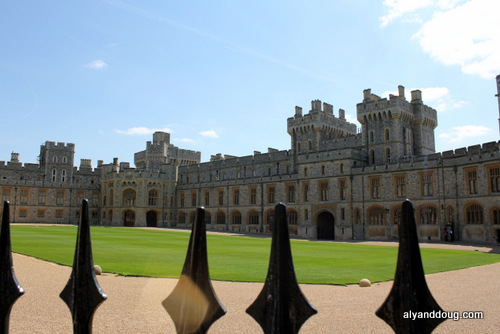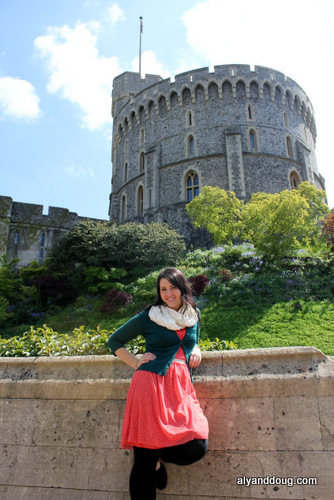 "Made with milk from the Royal Farm."
After our adventures in the castle we headed west to Bath through more stunning countryside.
We could immediately see the appeal of Bath. We got mixed reviews so we weren't sure what to expect but we chose to stay there a few days because of the location, we had plans to visit friends in Bristol and Bath made the most sense. We stayed at the most darling B&B and I'm kicking myself for not getting a picture of the owners. They were this older English couple who both grew up in Bath (seriously, can you believe people can just throw out that they grew up in Bath?). I loved the gentleman owner. He served us our breakfast each morning while he chatted with us; he was just perfect with his big belly and bushy eyebrows, dry sense of humor, polite manners and the accent, oh the accent! I begged Doug to let me take him home with us. I wish I at least got a picture of him. I mentioned before about our gross English breakfast, well all you need is someone to make you breakfast at a nice home in the middle of Bath and all of a sudden it's the best breakfast you've ever had.
Walking around Bath felt very Italian and much different from the other places we'd visited in England. The Romans built the main bath around the hot springs around 60 AD and the complex was gradually built up over the next 300 years. It became a popular spa town during the Georgian era and most of what you see now is buildings crafted from Bath Stone during that time. We took a walking tour that the city offers for free every day and it's one of the best tours we've ever had. The guide was a volunteer and so knowledgeable we loved learning about the city. During Georgian times they believed the water had healing powers so people flocked here for various afflictions. Many women were sent here (usually alone) if they were having infertility issues and many inexplicably left pregnant. I always romanticized this time period with the big hair and the fancy dresses and the balls. One thing that was really pounded into our heads was how disgusting and smelly everything was and it really put a damper on my imagination. We learned about the human waste disposal they had and how most only bathed once a year, which is ironic when you live in a place named "Bath". At least they really came through with their architecture, it was a treat walking around.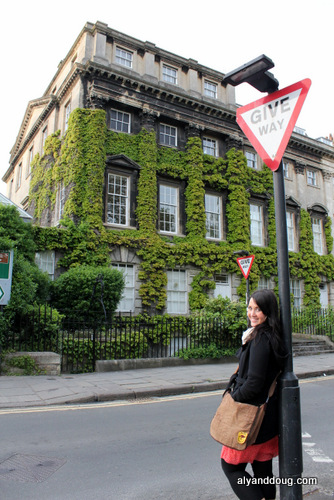 Here Doug is in "The Circus", from wikipedia: "Divided into three segments of equal length, the Circus is a circular space surrounded by large townhouses. Each of the curved segments faces one of the three entrances, ensuring that whichever way a visitor enters there is a classical facade straight ahead."
Next stop was the Royal Crescent. Our pictures can't do it justice but it's a row of 30 houses in a crescent shape and it makes you feel like you are in another time period when you see it.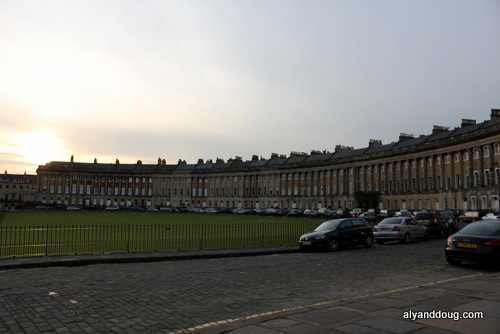 Since many people were unable to read, symbols were widely used. On the abbey here is the "signature" of the Bishop "Olive over king"= "Oliver King". He was responsible for rebuilding the abbey.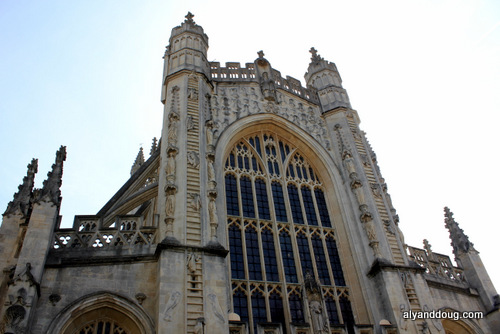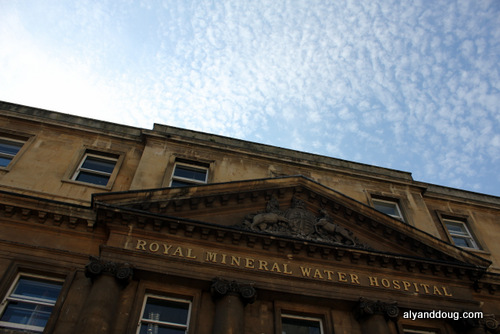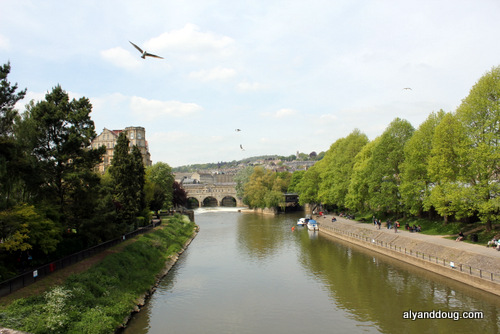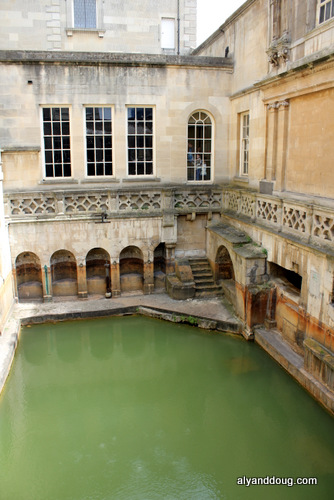 Inside the original Roman Bath house.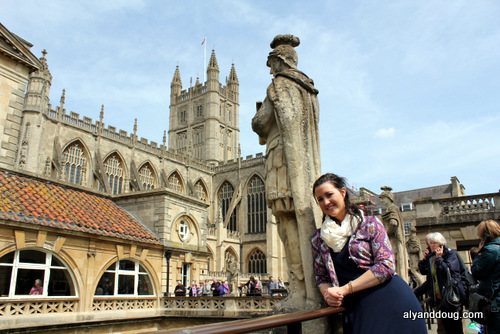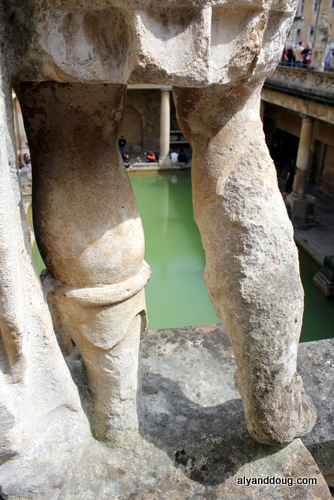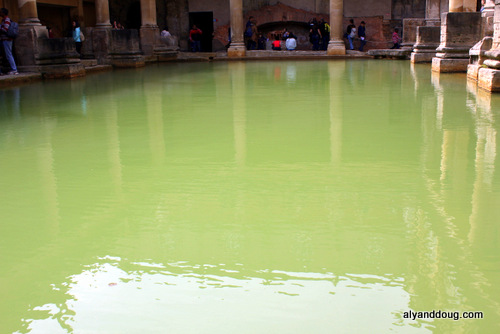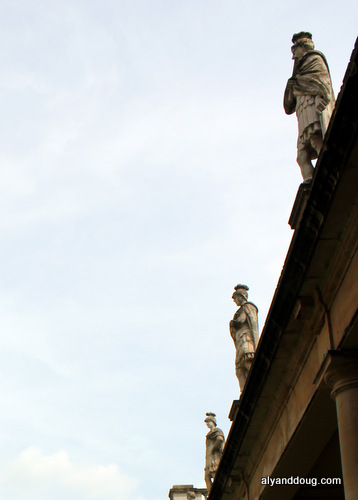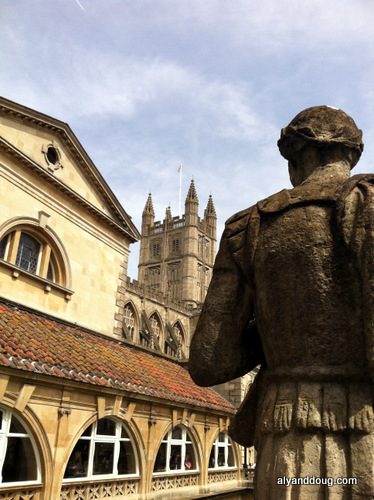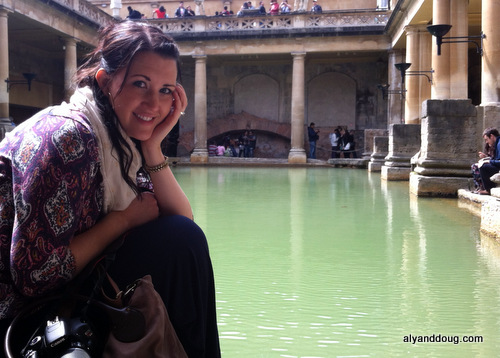 I asked one of the workers how often someone jumps in and she said about twice a year. When they do they have to rush them to a doctor because the water is so full of  bacteria being submerged, even for a second, is very dangerous. That's actually pretty gross.
We headed over to Bristol in late afternoon to visit our friend Dennis and his wife Willow and daughter. You may recall Dennis is Doug's buddy from his first time living in China in 2008. The two met each other and were best friends, spending almost every day together. Poor Dennis learned a lot of his vocabulary from Doug, which if you know Doug you know that most of his vernacular is very unique…because he makes up words and phrases. Dennis was still there attending University when Doug and I moved there in 2010 and we spent a lot of time with him. He married Willow a few years ago and she's from England. Now they live in Bristol with their little girl. It was a mind trip seeing Dennis in England. It's like running into your dental hygienist at the grocery store, you kind of recognize them but your brain tells you something is off and they should be holding floss in the dental chair. It was hard to wrap our heads around it- we were seeing our buddy Dennis while we were traveling in England. It was so fun to see them and I love hearing Doug and Dennis tell stories from their past shenanigans. We got Chinese food for dinner and I almost cried because I was so happy, it was real Chinese food. It has been so long and enjoyed it deeply. We need Dennis to come here and find the secret menus with real Chinese food listed, I know one of our restaurants has to make it…they must.
After the obligatory photo shoot we went on a walk to the Clifton Suspension Bridge, the first suspension bridge ever.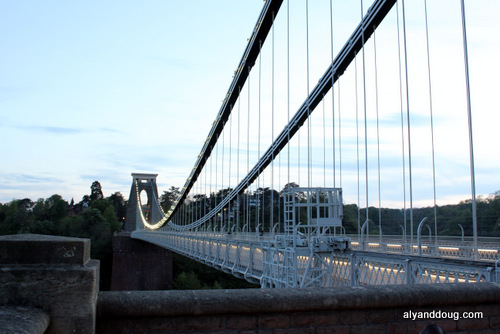 Our visit was all too short, as they always are, but we had to head back to our B&B to get some rest before saying goodbye to the United Kingdom and heading off to the Emerald Isle.