My {new} Job: Party Planner
by
alyson
My boss came to me with an interesting proposal: I was to contact Sam Tsui, the youtube sensation, and see if I could schedule him for a private concert. His wife's birthday was coming up in three months and he had some tricks up his sleeve for the biggest surprise birthday bash I've ever witnessed. It took me about two weeks of dead-ends before I finally got in contact with his (actual) manager and we set a date. In fact, we got lucky and I was able to land Kurt Hugo Schneider too. Little did I know this is where my job would take a turn and I'd become "party planner".
The next two and a half months were spent on countless phone calls making arrangements and re-arrangements for the big day. My boss has quite the imagination and we made sure no details were left undone. During the last month of the planning is when we put on offer on our house and were going through the whole closing process. Surprise surprise, our move-in date was pushed back two weeks and ended up being two days before the party. On a side-note, does anyone know what an underwriter actually does besides make you wait for weeks on end? I didn't sleep much the week before and when I did I dreamt about running out of boxes to pack or the pilots going to the wrong airport to pick up Sam and the gang.
Thursday, move-in day, came and went. Luckily we were able to get our bed set up so we could sleep; we weren't so lucky with the other million boxes in the house but they'd just have to wait. Friday was spent making last minute preparations. Then it was the big day.
We arrived at 8 AM to begin. As I mentioned before, this was a surprise party. His wife left at 7:45AM to enjoy her spa-day mother's-day gift in Salt Lake City for the day. Unbeknownst to her, loads of people were setting up an epic party in her own backyard. With a guest list nearing a hundred and the preparations you'll see below, this was no small feat.
I had my spreadsheet schedule of every half hour of the day mapped out. e.g. what time the builders were showing up to build the stage; when the piano movers would arrive to move the grand piano outside; the tentists; the car service to pick up Sam & co and take them to the airport; and the list goes on.
Somehow everything came off without a hitch. It was breathtaking.
Without further ado, here are some pictures of the evening. With exception of a few from my phone, all pictures were shot by the very talented Justin Hackworth.
All flowers were done by Laura Rovig. And they were stunning.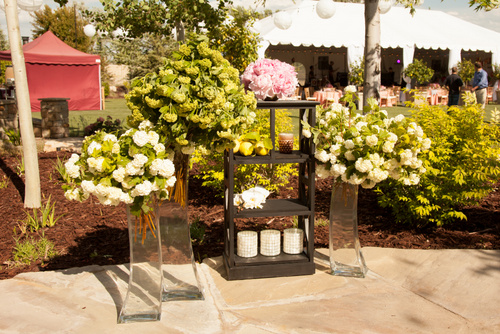 Here's the lemon trees we shipped in. Does anyone have any idea how tricky it is to A. find lemon trees with lemons on them and B. ship citrus over state lines? That department of agriculture…I tell ya…
Invitations, menus and all signage was done by our very own Dougie. Naturally.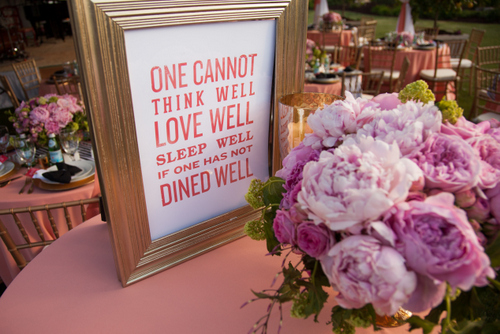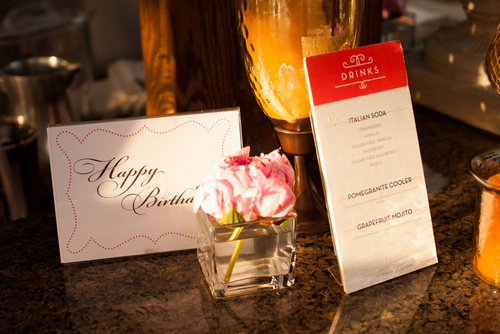 Decor was done by Courtney Parmenter. Beautiful, eh?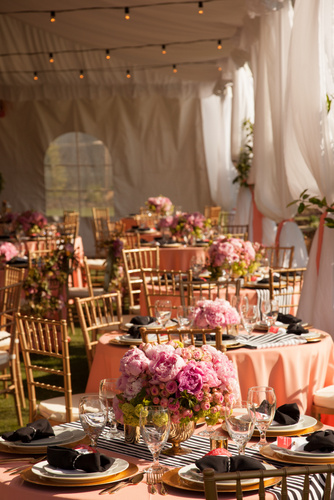 Oh yes, I found an ice sculptor. Jeff Vail.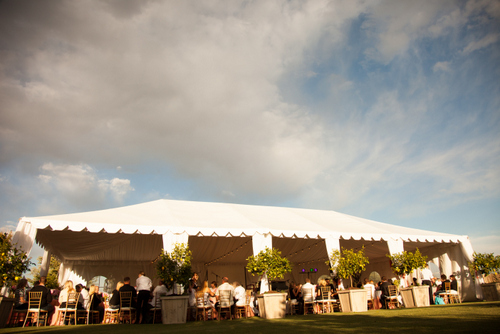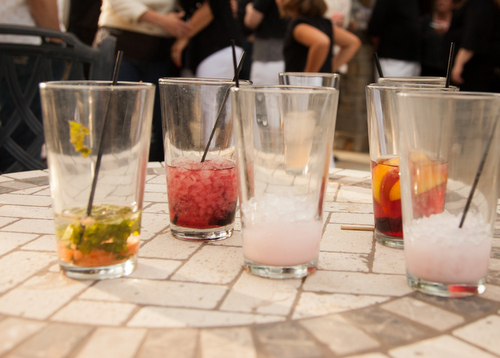 We had Surefire Pizza haul up their wood burning oven from SLC to make us dinner. Closest to true Italian pizza I've had in the States. All their ingredients are apparently imported straight from Italy. Delicious.
We couldn't have everyone park at the house, that would give it away. So I scheduled a shuttle so cars could be parked elsewhere.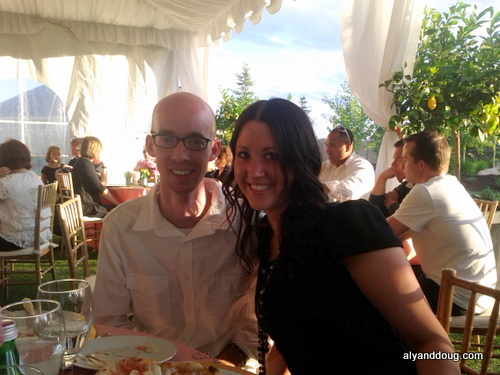 So I'll be honest. I didn't know who Sam Tsui was before this "project". Pop covers generally aren't my first choice. But Sam Tsui? I'm a huge fan now. He put on a fabulous show and he was just a joy. Doug ended up being the chauffeur for "the band" and had a blast with them. Great guys.
Someone I didn't get to mention is Kale Fitch who did the videography (which I won't post here). He did an incredible job and I love his work.
I seriously had so much fun helping with this. There was no one sweeter to throw a party like this than for my boss's wife. I love my job (even when I'm not planning parties) and I have a great boss. This night was such a blast and I feel so lucky I could be a part.