HOA
by
alyson
After much deliberation, we did it. We bought a house.
We've been moved in just over a month now and we love it. We somehow managed to get even closer to our place of work. We had a 3 minute commute before from our apartment to work and we literally cut it in half to 90 seconds. That was unintentional, we just fell in love with our neighborhood. The whole neighborhood surrounds a big private park. The neighborhood is older with mature landscaping and nice, but very different, homes. Just how we like it. I wouldn't say this is where we pictured ourselves planting some roots, but alas, here we are.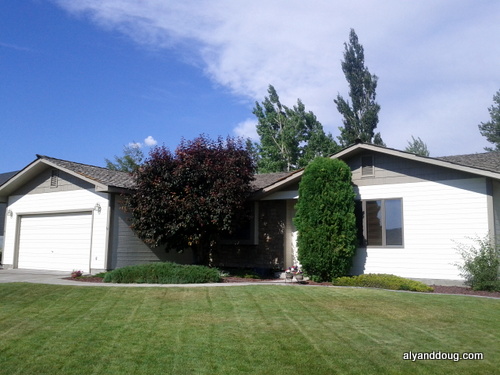 We had the best realtor ever- thanks Cindy McCuistion-Nielson. Also thanks to our nice parents who not only helped us with the big move but supplied us with the necessities of home-ownership: a grill and a lawn mower. It is greatly appreciated. A double thanks to my mom for helping us deep clean our apartment when we moved out, we owe you.
There's an open invitation extended to anyone who would like to come visit us; you have now been upgraded from a sleeping on the couch  to a guest room! So, don't be shy.